Best Wall Décor Ideas:- Furniture and wall color aren't the only things you can use to express your personal style. The use of wall art to improve the atmosphere in your room is a great finishing touch. We can transform our living space from boring to bright and vibrant with a unique wall hanging only when you hang the right decoration piece at the right place on the wall. Wall art has gained a lot of importance in the past few years. Home-decorating designers are emphasizing the use of wall art to enhance the appearance of the house, since it is regarded as one of the best items. Is there anything better than adding color to a home? You can transform your living space by using the right types of home décor items instead of leaving it plain and boring.
Furthermore, an empty wall in your home is a great canvas for both demonstrating your creativity and displaying wall hangings for living rooms. You can easily inject personality, style, and individualism into any room of the house with anything from a simple piece of art to a huge wall hanging.
We have posted the reasons why you should also consider wall hangings in our blog below, if you're someone who is very particular about their home décor.
1. Grown-up tapestries or textiles
Probably the first thing that comes to mind when you think of tapestries is stapled fabric to the wall like the fabric in your college dorm room. The college tapestry can be found in many adult forms as well, such as intricately woven rugs, hangings made from macramé and lovely quilts with a sentimental or special meaning. You can add some warmth and texture to the living room or bedroom by using wall textiles.
2. Shelves with special trinkets
Never underestimate the power of some good shelving! You can add some shelves with unique shapes or configurations to your walls if you have some interesting knickknacks or books to display. Don't let your shelves look chaotic or thrown together. Be careful to arrange them in a neat, calculated manner. Organize your shelves like showcases, displaying only the things that are most worthy of display!
3. Decorative mirrors
In our opinion, people do not appreciate the decorative mirror as a piece of wall art as it must be. But they are the Best Wall Décor Ideas. Traditionally, these elegant decorations are located above the fireplace, above the credenza, or above a foyer table to add some style and dimension to otherwise flat surfaces. These tiles come in numerous shapes and finishes, making them the ideal solution for those stubborn walls that no one seems to be able to fit.
4. Hanging wall plants
The best way to decorate a room, particularly one with lots of natural light, is with sweet, hanging plants. Vertical gardens are perfect for creating a sense of freshness in a colourless setting or for bringing some color to white walls. What's great about this creative wall décor option is that you can make it yourself from reclaimed wood, vintage containers, old photo frames, and anything else you can find at the flea market or around the house.
5. A LEANING BLANKET LADDER
There's no doubt this idea is out of the ordinary. Although a blanket ladder isn't wall décor, it adds texture and interest to the wall space as well as fills up space and can be the Best Wall Décor Ideas. As the seasons change, I simply change out the blankets I place on top of them. Summer blankets are lightweight cotton and winter blankets are heavier and fuzzier. The top blankets I place on top of the pillows are changed out as the seasons change.
6. Toran/ Door Hangings/ Curtains
Adding the right window treatment can create a stunning focal point, whether it is draperies, drapes, valances, sheers, or panels. You just need something to provide privacy and control the light coming in.
That said, it's time to think differently regarding window treatments, which can become an important part of the way you design your room. Choosing between curtains and blinds doesn't have to be an issue. Your room can adept both the ideas. You can easily change out panel's curtains from season to season when you have both blinds and panel curtains, and the blinds remain a neutral constant throughout the year.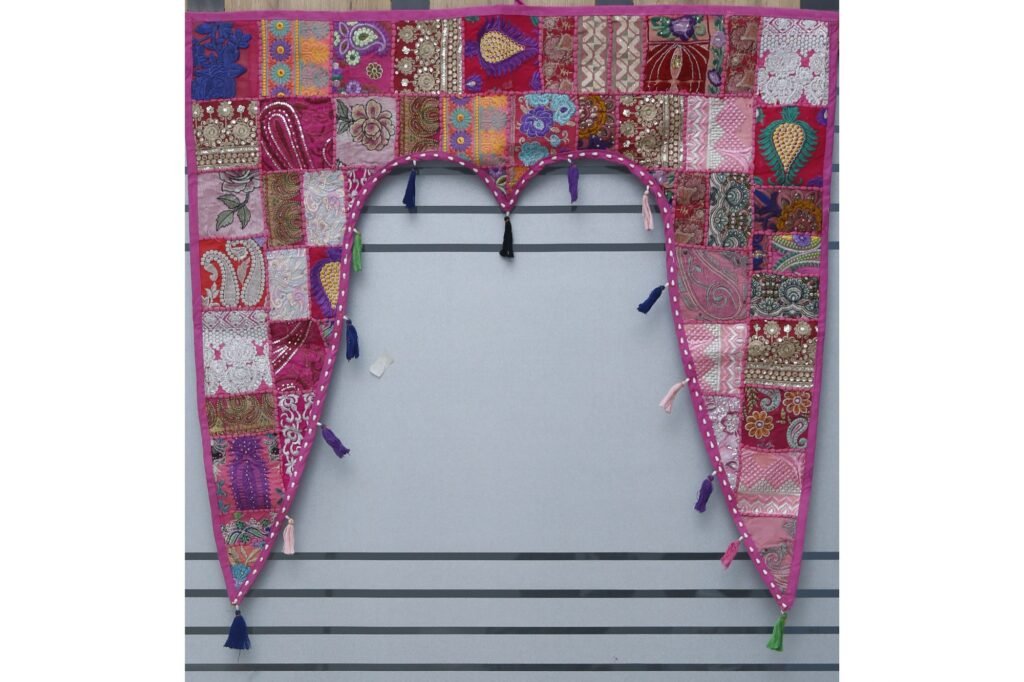 7. Multi-dimension objects
You can also hang 3D objects that have special meaning but you does not originally intend for hanging on a wall if you haven't found something that works for you. To create a unique feel, you may mount objects as diverse as tennis rackets and sailboat tillers. You can certainly liven up a blank wall by coming up with some novel accents that add some dimension and texture, so do not be afraid to let your creative side loose. Whenever you find something relatively flat and you can securely mount it on a wall, you can create wall art.
DO CHECKOUT OUR DOOR HANGINGS:-